Pure-CSS Emoticons WordPress Plugin Released
22 September 2010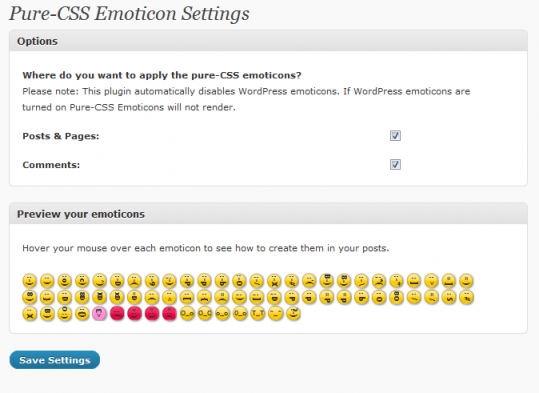 I'll keep this post short and sweet. My good friend, Anthony Montalbano, has released a WordPress plugin for our CSSEmoticons jQuery plugin. Now you can use pure-CSS emoticons in your blog or WordPress site simply by installing and activating the WordPress plugin.
The WP plugin currently has options for you to apply "emoticonization" to your posts, the comments, or both.
Also, since the CSSEmoticons jQuery plugin doesn't currently work with Internet Explorer, the WP plugin automatically reverts to WordPress's built-in emoticon image-replacement for Internet Explorer.
Be sure to check it out and try it on your blog if you're cool enough B-) . We're already using it on this one, and we <3 our new plugin.
---